Some purchases flavor one's wardrobe distinctively, though their proportions are small. Ties, pocket squares, and other well chosen accessories can give subtle nod to season or occasion, and change entirely the tenor of an ensemble. Or even the baritone.
There are two classic neckties that do just that for fall and winter: ancient madder and wool challis. Each has a softer hand than most year-'round ties with a dusty, muted appearance, easily blending with the autumn palette. Both are beautifully at home with a cold weather kit of tweeds, cords, and tattersall shirts, but they are still refined enough to dress up with flannel suits.

Ancient madder is so named for the dye originally extracted from the madder root. It was "ancient" as madder use extends back to ancient India, Persia, and Egypt. Herodotus wrote of Libyan women using madder to brighten their garments, and Pliny wrote of madder cultivation around Rome in the mid-first century. Charlemagne issued decrees requiring its production throughout his empire. 
Ancient madder cloth as we know it also uses a gummed silk that adds to its muted appearance and particular hand. During the mid-19th Century madder dyestuff was synthesized, thus allowing for more economical production. For another century, however, the designs were still hand blocked onto the silk. 
Wool challis is a soft ("shallee" was an imported Indian word meaning "soft"), plain weave dating from early 19th Century England, first being woven in Norwich in 1832. It was widely used for women's dresses and children's clothing, as well as men's accessories.
The designs traditionally used on both fabrics are paisleys and neats, from geometrics to pines. Wool challis will not infrequently feature equestrian and hunting themed designs as well. Many of these designs were produced by David Evans & Co. which stood as an iconic name in English silk and hand blocking for a century and a half, until the factory's closing in 2002.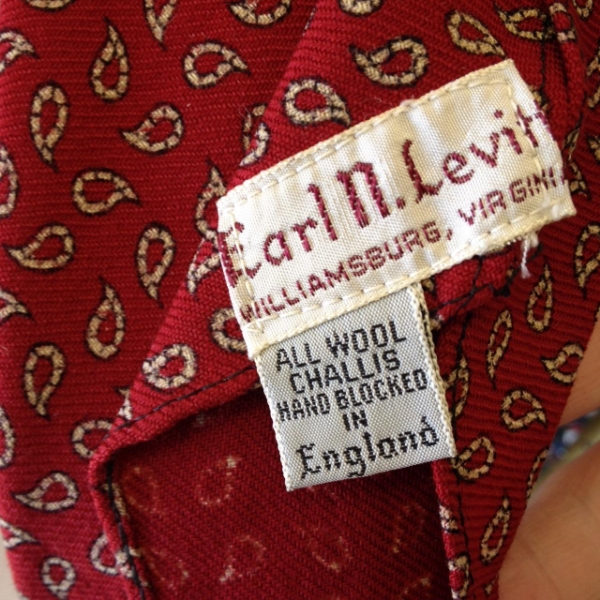 Vintage examples of ancient madder and wool challis neckties can be particularly striking in color and design. But vintage supply is necessarily limited, partly because moths find wool challis tasty. Vintage neckties are also fraught with shorter lengths and often very narrow widths. One can still dig up relatively modern hand blocked ties (check the label) on the secondary market.
Thankfully, various current makers have embraced these cold weather classics, albeit using more modern production techniques. Drake's typically makes ties in ancient madder and wool challis, often with some pocket squares and scarves sprinkled in. Season to taste.