Fujito is the newest line from Japan to come into the No Man Walks Alone family. The clothes are beautifully made, but not precious; classic without being antiquated. The designer behind the company, Go Fujito, draws heavily from his love of the great outdoors, vintage clothing, and the skateboard and music scenes he grew up with in Japan during the '80s and '90s. Earlier this week, we talked to Go about his personal history and design process. Today we end with a chat about how he ended up collaborating with one of Italy's most famous bespoke tailoring houses, Liverano & Liverano, as well as some of his favorite things outside of fashion.
You once did a collaboration with Liverano & Liverano, a bespoke tailoring house in Italy. How did that come about?
A few years ago, one of my customers went to Pitti Uomo and wore my jeans. Mr. Liverano saw them and asked where they were from. My customer contacted me and put us in touch.
I was very honored by Mr. Liverano's interest, so for the next Pitti Uomo, I traveled to Florence to show him a pair of Fujito jeans. He asked if we could change the pattern a bit, as well as switch up some of the stitching. Back at his atelier, he also gave us a copy of a paper pattern hanging on his wall, which he wanted us to use for the hip pocket. Again, I was very honored because I know how unusual it is for Mr. Liverano to share one of his paper patterns.
We ended up making some samples for Mr. Liverano, and I traveled to Florence a few more times to get his approval on the final production. Our factory was very supportive throughout this process. Today, we still make all of Liverano & Liverano's jeans in Japan.
A lot of clothing today fits very slim and tight. I noticed, however that you often play with proportions. Some of the garments have a bit more ease built in and  everything looks very comfortable. Do you generally like clothes to fit a bit fuller? What aspects of the cut are important to you?
I've been shifting to making more relaxed cuts in recent seasons. Our "big silhouette shirt" is one of those cases, as are the fuller-fitting trousers. I'll usually start the process by discussing with our pattern maker how our clothes should fit. It's really about how each individual piece fits into the broader collection. As it gets tougher to live in today's world, I want our clothes to feel comfortable and relaxing.
Why is it important to you to manufacture in Japan?
About seventy-percent of every collection is made in Kyushu, which is the southernmost of the four main islands of Japan. Our shirts, for example, mainly come from Karatsu. It's a beautiful town with a great view of the mountains and ocean. The close distance makes it possible for us to discuss things face-to-face with our partners, which results in better clothes. Even if we start with vintage items, we change the silhouette, color, and texture in order to create something that simultaneously feels new and classic. And I know it's important to those of us who live and work in Japan that things are made here.
I know you have a shop in Japan. For you, what makes a good retail environment?
I started my career working as part of the sales staff, so I still enjoy talking to people who come into the store. Part of what makes a store special is having that very personal relationship. I also think presentation is important – both in terms of showing the product and the people behind the company. For many of our customers, who they buy from is just as important as what they buy.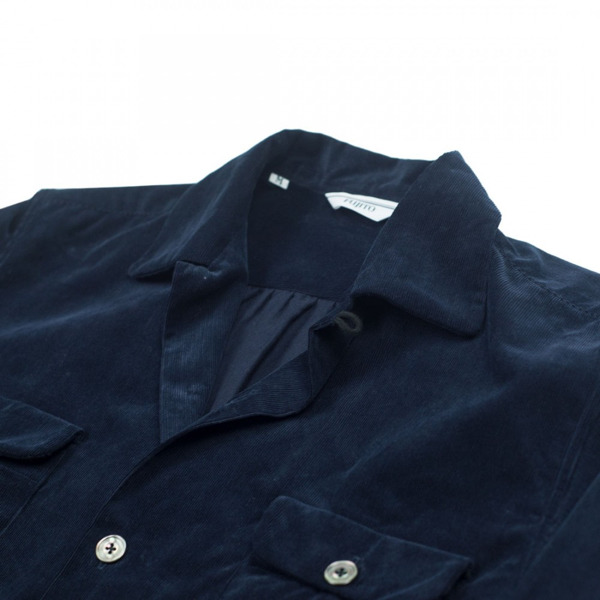 You travel a lot for work. What are some things you always bring with you on trips?
A bottle of fragrance from Aquaflor; a scarf from Liverano & Liverano; sneakers from Asics; and a travel wallet from Smythson.
If we were to visit your part of Japan, what should we not miss?
I work in Fukuoka, which is famous in Kyushu – one of the main Japanese islands – for its food. If you visit, I'd strongly recommend trying Tsudoi, which is one of the Japanese noodle bars here. It has a personalized noodle menu, some incredible sake, and a mysterious feeling atmosphere. The place will satisfy any customer.
Finally, what music are you listening to these days?
"Passing Afternoon" by Iron & Wine. When I'm stressed, I find it cools my mind.