Long, long ago your correspondent dreamed of an ideal rootless world of a jetsetting lifestyle, ideal for the shock troops of capitalism among whom he daydreamed himself to be, without realizing that they, too, are just more cannon fodder swarming out of trenches for our overlords.
Jordi Labanda made this image concrete. Labanda is the illustrator of a breezily global elegant life who found his best niche at Tyler Brûlé's wallpaper* in the late 1990s, when we could dream of a closer, cosmopolitan, and more fabulous world where every woman was sultry and willowy, every man bedroom-eyed and playful. Looking back, he drew an age of instant wistfulness, an age that seems eons ago before our world succumbed once again to its genetic predisposition for insecurity.
But back in 1999 or 2000 Labanda created four types for a wallpaper* piece on four different global travelers, including "The Corporate Citizen": perfectly coiffed in a well-cut dark suit and classic spread-collared shirt with a discreet stripe descending a jetway. wallpaper* described him as a fan of the elegant and the classic, shopping at Hermès (probably not for that cliché the Hermès tie, but a refill for his planner) and Hilditch and Key (hopefully Paris not London) as he flitted from boardroom to meeting room in one business class or another…
When travel was still a pre-TSA dream… Of course, that corporate citizen was still a citizen, still turning left entering a commercial airplane, rather than flying private, although all the pictures of private jets I've seen make them look like someone's awful McMansion. I learned soon enough, too, that the intrepid traveler lifestyle was better kept a dream, because it was no kind of life. Those of us who fly enough to accede to a status level elite enough to be regularly placed in business or first, and driven out to the plane in a Porsche (as can happen to Lufthansa HON Circle members at their hubs) have awful qualities of life that no amount of pampering by air staff can make up for. Nor have I reached that stage of achievement where I could or would actually pay to fly business or first; I've spent money on plenty of incriminatingly ridiculous sartorial things but could never justify to myself spending the equivalent of a couple of Camps de Luca suits for 14 hours of being able to look down my nose at economy class passengers, drink, hatewatch reruns of The Big Bang Theory and have a nice TV dinner. And obviously for most of us the most valuable part of the business or first class experience is the first one of those.
Travel stayed a seductive idea, though: an idea of movable luxury, of the stylish tool to transform anonymous rooms into outposts of self. I use antique trunks to store a lot of my clothing – at home, knowing that they would be completely unusable for travel. In nice hotels today, luggage trolleys pass laden not with Vuitton and Goyard steamers (Moynat is just Vuitton's attempt at recreating another luxury brand), nor with obnoxiously bland and expensive Tumi nylon (so 1990s), but gleaming ridged hardside Rimowa suitcases (Zero Halliburton being too closely related to the kleptocrat war profiteers Halliburton).
Slightly more practically, I picked up a British travel umbrella with handle and tip that unscrew for storage in a suitcase, a travel silvertip badger brush for shaving that screws into a tube, folding picture frames, light plastic shoetrees for shoes and shoes for travel themselves.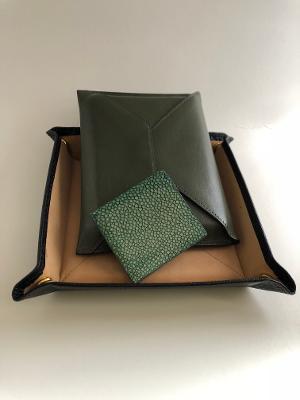 Most usefully, I needed something to keep my life together while on the road, a place to put keys, wallet, sunglasses and everything else I needed to grab quickly on my way out the door in the morning. This clever folding tray, whose edges button together and unbutton to pack completely flat, was the perfect thing, indispensable and always with me when I travel, even when the travel umbrella and travel badger have been sidelined by my carryon-only preference.
Despite having yearned to be Labanda's idealized Corporate Citizen, this tray didn't come from Hermès but from a rather more discreet British stationer. Around the time Labanda came up with the Corporate Citizen, Hermès did sell such a tray in grey felt. When I asked if they had thought of doing one in leather, the staff at the flagship reacted as if it had never occurred to the world's most respected leathergoods company to do so (years later, now of course they do). And as the design's gotten more traction, it can be found many other places as well. I credit my tray for however lost I am feeling in the places I have travelled to, however irretrievably lost Labanda's and Brûlé's sexy utopia, my effects not being lost.